Everyone needs a little motivation and inspiration — we know we did when we started Wize Women Investors. Whether it's other strong, independent and intellectual women or their words or the desire to change the status quo, everyone takes inspiration from something.
So, we thought we'd pass along some motivation and share a few wise words from some wise women that left us with the desire to conquer and move forward.
Motivation from Wize Women Investors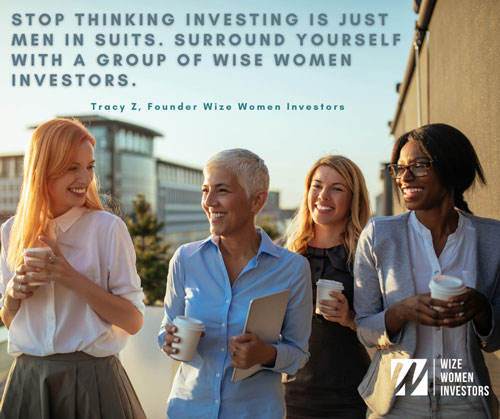 Stop thinking investing is just men in suits. Surround yourself with a group of wise women investors.

Tracy Z, Founder of Wize Women Investors
Invest Early. Invest Often. That's how women close the gender wealth gap.

Tracy z, founder of wize women investors
Accept that investing risk can't be eliminated — but it can be managed.

Tracy z, founder of wize women investors
Financially Independent Women Quotes
My mom said to me, "You know sweetheart, one day you should settle down and marry a rich man." And I said, "Mom, I am a rich man."

Cher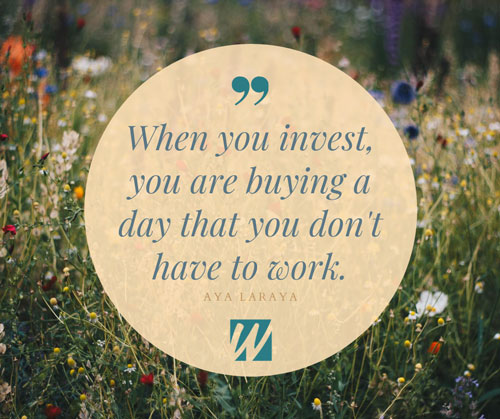 When you invest, you are buying a day that you don't have to work.

Aya laraya
For women, financial independence is a matter of necessity.

carrie schwab-pomerantz, senior vice president of charles schwab & co.
Money is only a tool. It will take you wherever you wish, but it will not replace you as the driver.

ayn rand
Money looks better in the bank than on your feet.

sophia amoruso
By definition, saving — for anything — requires us not to get things now so we can get bigger ones later on.

jean chatzky
People say that money is not the key to happiness. But I always figured if you have enough money, you can have a key made.

Joan Rivers
Quotes from Motivated Women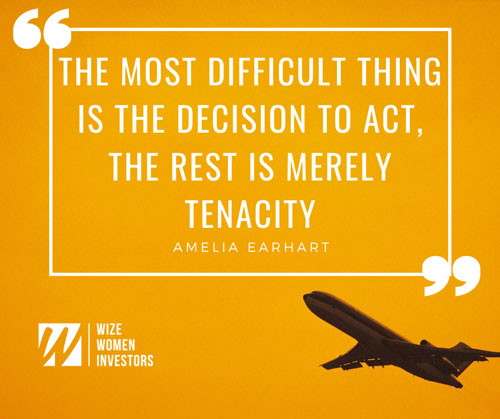 The most difficult thing is the decision to act, the rest is merely tenacity.

Amelia earhart
Business is fun. Controlling your own destiny is fun.

Queen Latifah
Forget about the fast lane. If you really want to fly, just harness your power to your passion.

Oprah Winfrey
Power is not given to you. You have to take it.

Beyonce Knowles
If you want something said, ask a man; If you want something done, ask a woman.

Margaret thatcher
Make Investing in Yourself a Priority
Give yourself the gift of financial independence. You deserve it.

tracy z, founder of wize women investors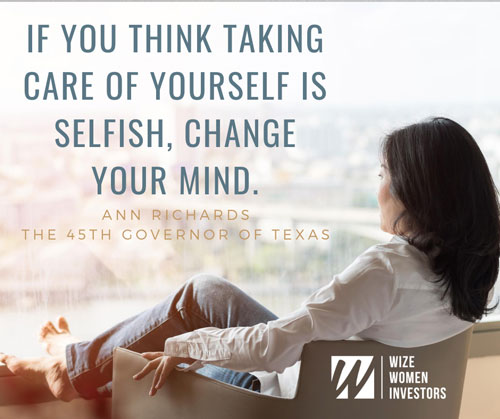 If you think taking care of yourself is selfish, change your mind.

ann richards, the 45th governor of texas
Give yourself permission to change your mind, and to start small.

chelsea fagan, The financial diet
Your success will have everything to do with how you perceive yourself, because how you perceive yourself is how others will perceive you, too.

Lorie greiner
It is so important to take time for yourself and find clarity. The most important relationship is the one you have with yourself.

Diane Von Furstenberg
Women Inspiring Women
I just love bossy women. I could be around them all day. To me, bossy is not a pejorative term at all. It means somebody's passionate and engaged and ambitious and doesn't mind leading.

Amy Peohler
I always believed that one woman's success can only help another woman's success.

gloria vanderbilt
We need women at all levels, including the top, to change the dynamic, reshape the conversation, to make sure women's voices are heard and heeded, not overlooked and ignored.

Sheryl sandberg
Women have to harness their power — it's absolutely true. It's just learning not to take the first no. And if you can't go straight ahead, you go around the corner.

Cher